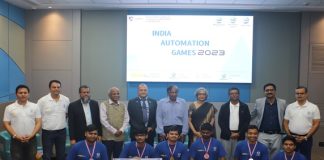 Mumbai 18 September 2023: The third edition of India Automation Games 2023, a two-day celebration of innovation and technology, kicked off at the NMIMS Mukesh Patel School of Technology Management & Engineering (MPSTME) on September 8 – 9, 2023. The event began with a grand inauguration ceremony presided over by prominent figures in the automation industry. Mr. Sudarsan Srinivasan, the Managing Director of Vega India graced the occasion as the Chief Guest, along with Mr. Vaibhav Narkar, the Regional Head at Vega India, and Mr. Niranjan Bhise, the President of ISA Maharashtra, who were the esteemed Guests of Honor. Vega India was the platinum sponsor of the event, with ISA Maharashtra and Blackberry Tiles as the gold and silver sponsors, respectively.
The event featured talented students from 22 prestigious institutions across the nation, including Manipal Institute of Technology (Manipal), JSS Academy of Technical Education (Noida), MKSS Cumins College of Engineering for Women (Pune), Vishwakarma Institute of Technology (Pune), Mukesh Patel School of Technology Management and Engineering (Mumbai), Vivekananda Education Society's Institute of Technology and Polytechnic (Mumbai), Madras Institute of Technology (Chennai), PVPIT (Sangli), Kumaraguru College of Technology (Coimbatore), Nirma Institute of Technology (Ahmedabad), RAIT (Navi Mumbai), Shri Guru Gobind Singhji Institute of Engineering and Technology (Nanded), and BMS College of Engineering (Bangalore). These students competed in a series of 5 challenges consisting of PLC, MATLAB, Sensoric, Robotics and Pneumatics – all domains that hold immense significance for the future.
The event was held under the leadership and guidance of Dr. Alka Mahajan, the Dean of Mukesh Patel School of Technology Management and Engineering, and organized by Prof. Dattatray Sawant, the Faculty Advisor of ISA MPSTME. The event concluded with a fitting valedictory ceremony, featuring Mr. B Sai Ramesh as the Chief Guest and presided by Hon. Secretary SVKM & Mentor MPSTME Dr. Jayant Gandhi and Mr. Jagdish Shukla and Mr. Asif Y Mulla as Guests of Honor.
This premier automation and robotics competition was won by Mr Harsh Pandit from MPSTME who took home a prestigious gold medal and a cash prize of ₹10,000, followed by Mr Siddhant Bangera of MPSTME and Mr Venkatesh TMR from MIT, Chennai, who were conferred upon with silver medals and given a cash prize of ₹5,000.  Mr Adithya Santhosh from Manipal Institute of Technology, Mr Krushna More of VIT Pune and Mr Sree Sankar SS from MIT Chennai were the awardees of the bronze medal and a cash prize of ₹3,000. All these winners have qualified for the World Automation Games 2024 to be held in Calgary, Canada.
The event was highly appreciated by the leading figures in the automation industry, commending ISA MPSTME for its commitment to spreading the reach of automation among students.
Speaking on the occasion, Dr. Alka Mahajan said, "We express our appreciation towards all the participants at the 'Indian Automation Games'. The success of the event is a testimony to the resolve of MPSTME towards encouraging young innovative minds to apply their learning in solving real life problems in the field of emerging technology. Such platforms not only promote healthy competition but also encourage students to push the boundaries of their knowledge and skill beyond the classroom, which is critical in today's technological landscape."